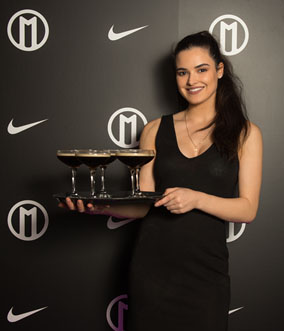 The scene was set for Nike's night of nights. With all the glitz and glam of the Golden Globes and the tongue-in-cheek humour presented by hosts at the Academy Awards, this event was much anticipated by staff of this notorious sports brand.
Every year, Nike hold their Maxim Awards, a celebration of the highest achievements within the Nike company for the year. This year, the Nike Maxim Awards took place at BOND Bar in Melbourne's CBD.
Staff rolled up to the underground function venue in fine style, fully prepared and eager to find out who would take home each of the coveted titles. Greeted on arrival by one of BOND Bar's beautiful waitresses, guests had the choice of two cocktails for the evening. The classic Espresso Martini was on offer or, if guests were feeling adventurous or had caffeinated prior, a BOND Bar exclusive was extended. This White Chocolate and Passionfruit delight was absolutely to die for.
With a cocktail in hand, guests walked through the electric passage to the bar where, on a raised podium, stood two familiar faces. Employees of the Nike brand were there to welcome attendees and set the night off to a cheeky start. Clad in leopard print suits, these men would go on to host this evening, putting their own personal flair and often hilarious touch on the evening's proceedings.
Food was aplenty and guests enjoyed delicious canapes provided by the venue, who partner with the Adelphi Hotel's Om Nom Kitchen catering team to produce the evening's nourishment. Particular favourites were the melt in your mouth beef short rib with black pepper caramel and the crispy forest mushroom arancini balls with rich truffle mayo.
NRL star of the Queensland State of Origin, premiership player for the Melbourne Storm and Captain of the Australian National Rugby League team, Cameron Smith, also made a much-anticipated appearance, sporting one of Nike's best basic polo shirts. He was there to award the evening's prizes and announce the Nike group's top performers for the year. On offer were some of the brand's latest foot- and activewear, as pictured below.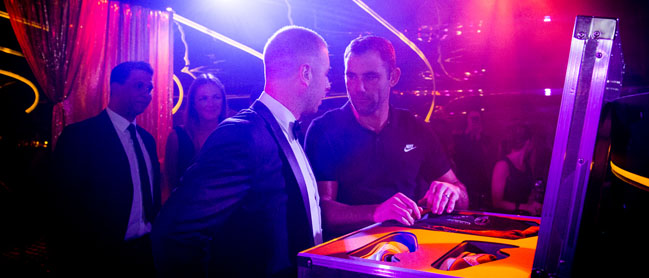 All in all, this was a wonderful evening of entertainment and a fantastic display of what a hard-working team can accomplish. Congratulations to all the high achievers and, of course, each and every one of the employees from the successful Nike brand who make each of these celebrated achievements possible.