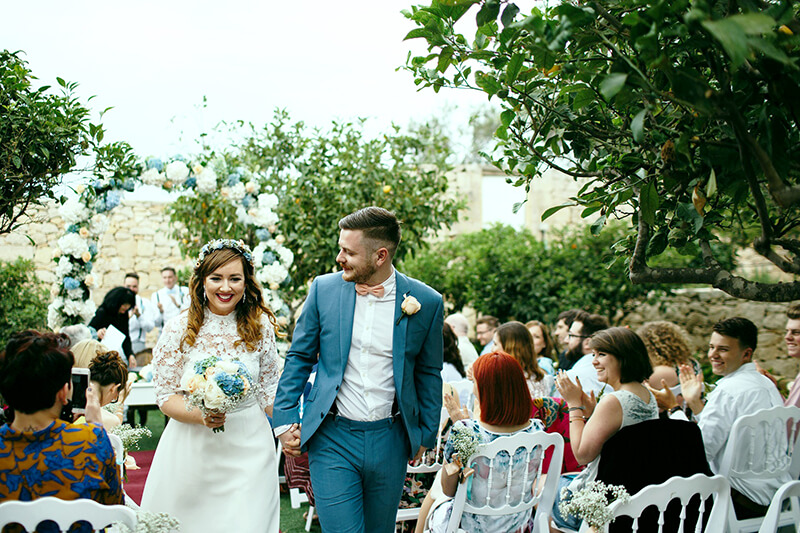 Wedding ceremonies don't have to be something that guests just watch. No matter if you have an intimate or huge ceremony, there are so many ways to include your guests in the frivolities of the day.
Here are some of our favourite ways to make your guests part of your ceremony!
Passing of The Rings
If you can execute it quickly, this can be quite a lovely part of your ceremony. Simply have the rings passed around the crowd so they can bless them with their good thoughts and well wishes before you exchange them with your partner. Not only does it mean you probably don't have to spend the time later showing it off, but your family and friends have placed an immense amount of love and support on your marriage immediately before it happens.
Tree Planting Ceremony
If you love the outdoors, and want to find a way to commemorate your love with your friends and family, why not plant a tree? Let each guest empty a jar of soil into the new pot to secure the tree in the pot. Then, let family take turns to water. The symbolism is gorgeous, and you will have a great plant to care for during your new life together.
Story Sharing
Whether it be through speeches or a memory board, have some guests share their stories of you two as a couple. These can be sweet and sentimental, or funny and friendly. It's a nice way not only to have them feel like a part of your day, but for you and your partner to reflect with those closest to you in an informal manner.
Make A Time Capsule
Time capsules are a great way to mark your special day. Grab an airtight box and fill it with contents from the day. Ask each guest to either bring something to include, or for each guest to write a message for its contents. This can either be passed around during the ceremony or something they do at your reception! Leave it closed until your first, tenth or twentieth anniversary as a special reminder of your day.
Pick Your Honeymoon
Have a few destinations written on a board and allow your guests to vote for the location of your honeymoon! Whether you have a jar for each country that gets filled, or you use a massive world map and let guests throw a dart at countries, it may prove interesting to see where you will end up!