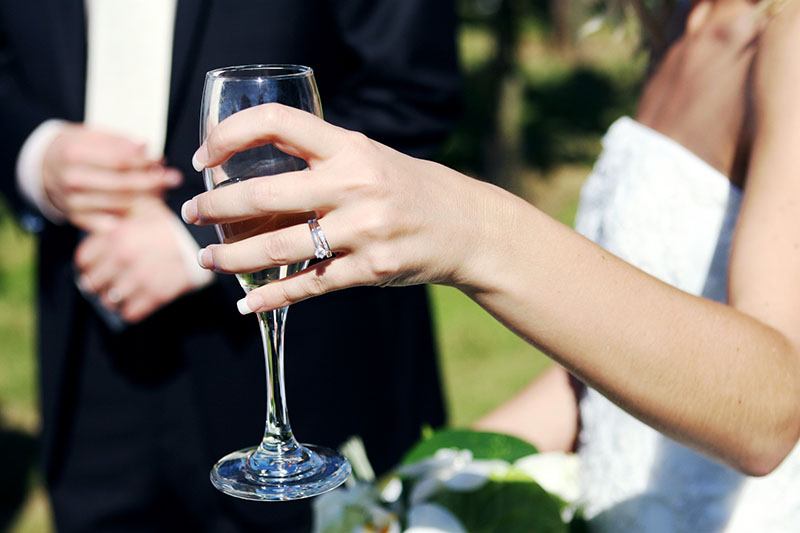 Weddings are an incredible celebration, where people generally come together over some food and drinks to celebrate love and happiness. However, when you are the bride or groom it is easy to get caught up in the various tasks that come with a wedding- like greeting each guest, posing for pictures, and the formalities.
For that reason, it is extremely easy to carry around a drink in the hand and deny yourself from eating food. You often hear that sometimes the bride and groom don't taste the food at their own weddings! When you're wandering around, doing a number of champagne toasts, and standing around with guests, its easy consume a lot of alcohol without even noticing and, on an empty stomach, this can be deadly.
It's important to ensure that, if you don't want to wake up the next morning with a headache and little memory of the night before, that you take on board the following tips indicating how to handle the drinks on your big day.
One Glass Per Course
One way to ensure you get both the right amount of food and drink in on your wedding day is to follow the 'one glass per course' rule. This pretty much speaks for itself, where you limit your consumption to one alcoholic beverage per food course. It is a great way to keep on top of the amount you are consuming and will help you in the long run!
Pace Yourself
If the night isn't as structured, and there aren't set courses to work with, then just ensure that you pace yourself. Your wedding is one of the most important days/nights of your life, so take the time to soak it up without the alcohol. Try not to have stronger drinks on an empty stomach and have plenty of water alongside your glass of plonk.
You Don't Have to Drink
If you don't want to run the risk of feeling under the weather the next day, and truly remember every detail of your wedding, then you could always opt not to drink. Celebrations aren't synonymous with drinking, and you can always celebrate your love with a drink on another night.
Of course, these are just suggestions. You should celebrate your wedding day any way you see fit, but maybe keep this in mind as you enter the party. If these tips resonate with you though, then maybe test them out at other events before your wedding day to see how you feel!