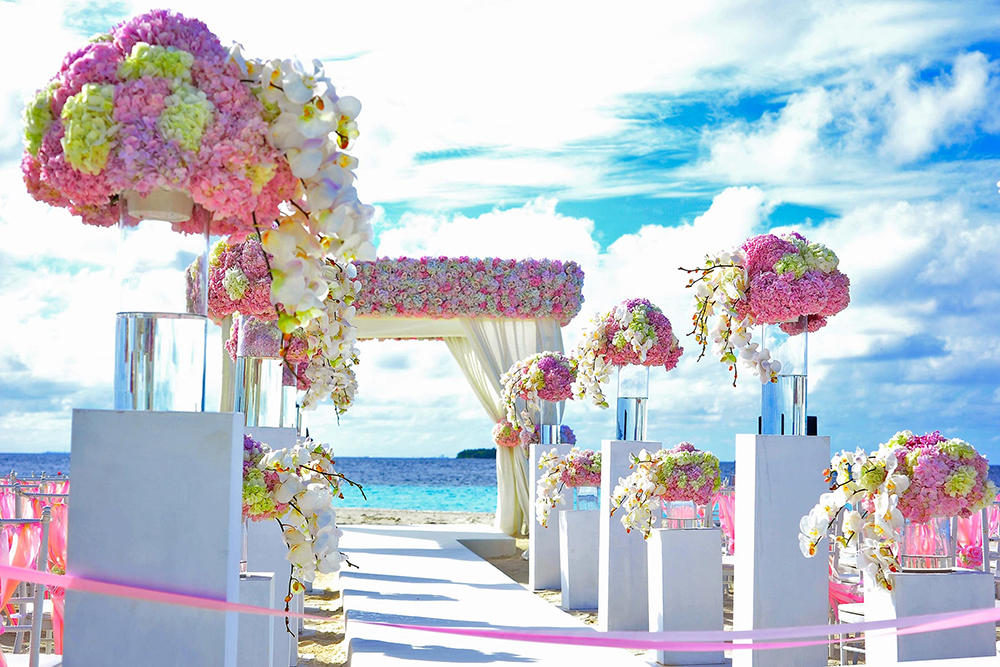 When you are planning your event, one of your main goals is to ensure that all your attendees will have a great time and will look back on your special gathering with fond recollections. Whether your next event is a wedding ceremony, hens celebration, bachelor party, brand / product launch, here are some examples of creative event installations you can implement to make your attendees smile.
Hanging Floral Installations
Being surrounded with nature and floral blooms is a certified way to make your crowd fall in love with your event space. By decorating chandeliers and the ceiling with a range of beautiful flowers and distinctive foliage, your attendees will be in awe of how romantic your setting is as soon as they step foot in your venue. No matter whether you are planning an event for children or the elderly, everyone appreciates a bouquet of fresh flowers, even more so if they are flowing down from the ceiling.
Crystal Curtains
Ever dreamt of hosting a party that would put The Great Gatsby to shame? Think about featuring crystal curtains. A crystal curtain backdrop will instantly transform your event into an elegant party that will make your guests feel a sense of luxury. The glimmering light from the crystals will bring warmth into your event space and inspire your attendees to feel rich in splendour.
Stage a Game Show
Gamification is a concept that is used in order to increase levels of engagement and play amongst your event attendees. Set up a corner at your event that simulates the stage of your favourite game show. During the course of your event, invite an attendee to play host to your event's game show. If your event is a product/brand launch, you can use this opportunity to gift the game show winners with exclusive product/brand offers.
Best Photo Competitions
Similar to staging a game show, another idea to keep your audience inspired with joy is to set up a photo booth corner and wall. Instead of hiring a photographer, have a polaroid camera available and some props laid out. You can then run a competition to see who creates the most hilarious image and reward them with a prize.
At Melbourne's Best Functions, our stylish venues have a renowned reputation in facilitating social gatherings with optimal levels of style and sophistication. Looking for a beautiful event space to host your next social gathering? Contact our team of event experts today.