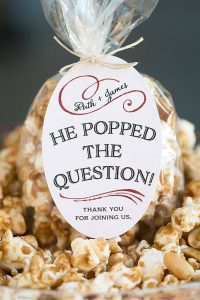 You've found the perfect venue, you're finalising the colour scheme, booked a photographer, and narrowed down your guest list. But before you dive into making hard choices with peonies and roses and baby's breath, you just need to make sure your nearest and dearest have the date saved!
Whether you have invitations or just save the date cards, you want your friends and family to get all the important information about date, time and location in a way that represents you and your partner, and your relationship. It can be tricky to put together an invitation that looks beautiful and contains everything it needs to, so we've put together a list of some of the most unique invitation ideas we've seen so far:
Chocolate wrapper wedding invitations
Send your lucky wedding invitees a chocolate bar with custom-made wrappers that double as invitations. Print something fun and sweet on one side, and then have the details for your wedding printed inside.
Printed handkerchiefs
For an invite that is sure to be treasured, print your wedding invitations on vintage handkerchiefs that your guests can keep forever. Crying at weddings is a time-honoured tradition, so not only are these invitations beautiful, they're functional too!
Countdown dial
Build up the excitement and anticipation with an invitation that comes with a makeshift countdown timer! Get your friends to count down towards the big day, particularly useful for those of us with forgetful friends and family. Have the outer ring printed with days of the month, then as your guest turns the front wheel, it can reveal how many days to go!
Origami folded wedding invites
Pit a crafty spin on your wedding invitations with some careful folding and creases. Consider adorable heart shaped envelopes, playful pinwheels, elegant blossoms, or even the paper fortune-tellers we played with in the schoolyard!
Dangle box invites
These can be a fun DYI project and are perfect for snap-happy couples. Find some little boxes and cut out a series of squares or circles that will fit inside. Spread the invitation information over five or six squares (or circles, or whatever shape your boxes are) then link them together with a ribbon and finish it off by pasting a photo of you both on the other side. Keep a loop of ribbon on top so your guests can hang the invitation from a hook or attach it to the fridge.
Wedding invite boxes
Deliver an invitation that gives your guests a taste of who you and your partner are as a couple. If you're both seasoned travellers, foodies or cooks, send your guests small boxes that contain their invitation and RSVP card, and personalised packets that contain some of your favourite spices, a chocolate, or something else that speaks to your relationship.