Are you responsible for throwing this year's Christmas party? Lucky you! A Christmas party is a chance to say a big 'THANK YOU' to employees for all their hard work. It's a great chance to highlight achievements, strengthen company values and unity.
However, being the year's oft biggest workplace party, there's no wonder it can be also be a source of worry. What's a good theme? How early should you start planning? Melbourne's Best Functions is here to help make your Christmas party a roaring success by giving you tips on when you should start planning your Christmas party. Read on to learn more.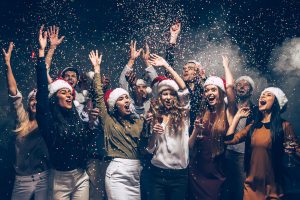 Size matters
The size of your crowd will influence how early you should start planning the Christmas party. The larger the company, the larger the rented venue needs to be – unless, of course, you're planning an in-house Christmas party this year. Corporate parties tend to be on the larger size, making the available event venues for hire in-demand. That's why securing a space should be one of the earliest things you should do – following deciding on a reasonable budget, and a date, of course.
If your business is on the smaller scale, you have more leeway when it comes to venues available, but don't make the mistake of waiting too long no matter the size of your crowd. You may struggle to find a space at all, and if you find one, it may not reflect your corporate spirit properly.
Planning versus announcing
We suggest beginning planning a corporate Christmas party early. That's because a lot of unexpected hiccups are likely to surface throughout the planning process. With less time at your disposal, the more likely small problems become big problems. With ample time, small problems remain small problems.
That said, while planning should start early, it should be done in secret to avoid pre-party excitement burnout. You don't want guests to know specifics about the party until a month or so beforehand to keep the excitement at a high. So, keep it under wraps.
Learn from last year's party
No two companies are the same, and nor should they be, so take a leaf out of last year's books. Ask yourself some tough questions: what worked, and what didn't? Reflecting on the overall success of last year's Christmas party (and asking co-workers how they liked it) can give you some important pointers about how early this year's party should be planned.