A hens night is a staple. It's a chance for the bride to be and her friends to have a night of wild fun before the big wedding day. Being a once-in-a-lifetime occasion, there are many expectations surrounding what it will be like.  Melbourne's Best Functions is a big fan of wild hens nights but is also aware that a lot of stress can come along with the role of planning it all out, be it the bride herself, her maid of honour, or the whole group that's planning it.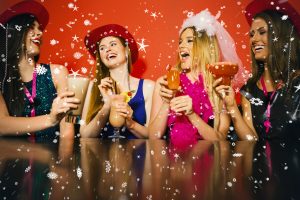 Start early
As with most successful events, the trick is to start early. If the bride-to-be has her mind set on a cheeky male stripper, it'll do no good if they're all booked out come hens night. Starting early not only gives you more freedom when choosing entertainment and venues, but it is likely to significantly reduce the stress of planning it all. Rome wasn't built in a day, nor should your hens party be.
Manage expectations
We see that a lot of stress and worry that comes along with planning a hens night comes from a failure to discuss and manage expectations. If your budget is on the smaller scale, there needs to be compromises. Having a sit-down with everyone involved early in the planning process to discuss the available budget and what a dream hens night would look like is a great way to get on the same page early.
Delegate responsibility
Don't feel like you have to take it all on yourself. If you're a maid of honour planning your best friend's hens night, we understand that there's a lot of logistical and emotional stress involved. You've got one chance to make it one she'll remember, right? You may perhaps even feel like the success of the night will reflect on your friendship. Remember that you don't have to do it all. We're sure the bridesmaids will be happy to give you a hand or two – not to mention the wider friendship group! You've got the luxury of having a group of people at your disposal who really care for the bride-to-be. Let them help you!
Trust the experts
Planning a hens night takes time, and can become a source of great stress when it clashes with other responsibilities such as family or work. If you feel like the responsibility is too great, don't hesitate to seek the help of the experts. After all, they're experts for a reason, and may help you throw a wilder, more decadent hens night than you could've even imagined.
Have fun!
Above all, a hens night is meant to be a night of roaring fun. Don't let the stress of planning it get in the way of you and everyone else having fun. If you find yourself stressing about getting the night back on schedule, maybe stop yourself and ask whether the schedule is even essential.