While we love a good hen's night for the revelry and bedlam, there's nothing quite like a girls' night in before "the big day" to really help you simmer down and appreciate your journey of love. While that sounds like the name of a cheesy chick flick, we've compiled a list of the 5 top bridal films to watch that aren't gag-worthy. These are classic stories of love and joy that'll help set  you up for the culmination of all your wedding preparation and truly get you in the mood to enjoy the glorious day to come. 
Love Actually (2003)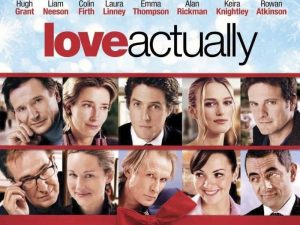 BOOM! Hit you with a big one first up. While this "Day in the Life" Richard Curtis piece traditionally makes for Christmas viewing, we think it's the perfect film to get you in an amorous mood all year round.
Nothing makes us squeal more than Colin Firth finding love with his Portguguese muse or even just staring in awe at the gorgeous specimen that is Rodrigo Santoro's, "Carl". A modern classic.  
Father of the Bride (1991)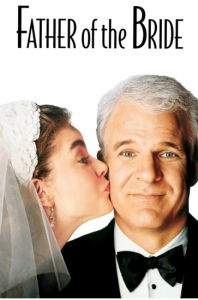 A '90s classic that hasn't aged a day. Steve Martin's realistic portrayal of a father unready to let his daughter "go" is both heartwarming and sure to get the tear ducts lubricated (we're not crying – you're crying!). 
With plenty of comedic mastery from powerhouses Steve Martin and Martin Short (just to make things confusing) as well as plenty of '90s fashion and family-friendly gags, this heartwarming tale is reminiscent of a bygone era of family film innocence. We especially LOVE the scene where George Banks' daughter, Annie, comes down the stairs and reveals her custom sneakers.  
The Wedding Singer (1998)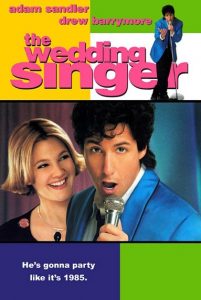 By far the BEST of Adam Sandler's romantic comedies. This film follows the blossoming romance of Robbie (Sandler) and Julia (Barrymore) as they navigate planning her upcoming nuptials only to fall for one another. It sounds awful if you haven't seen it, but trust us, the hilarious twists and turns along the way will make you fall even deeper in love with this couple and have you believing more in true romance than ever before. 
Keep a lookout for all the delectable '80s references and for Sandler's cathartic performance of a song he penned halfway through his relationship and breakup with a former flame.
Before Sunrise (1995)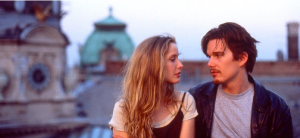 There have been few romantic movies that have stayed with us quite like Richard Linklater's "Before Sunset."
With powerful performances from naturals Ethan Hawke and Julie Delphy, Linklater's astonishing script is brought to life in such a way that will appeal not only to the heart but also the mind. Intellectual dialogue and longing shy glances from both characters will leave you completely amorous for the next 6 months straight (and potentially disappointed with your partner's lack of paralleled intellect). This is a romance movie for the thinking girl/guy. 
It's also the perfect film to watch if you're planning on going to Europe for your honeymoon, so you can recreate your own love story against similarly stunning backdrops. 
Pride and Prejudice (1995)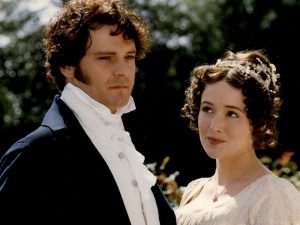 If "Before Sunset" is romance for the thinking person, then Pride and Prejudice is romance for the history buff. The classic Austen novel follows the romances of four sisters "of age" whose mother is keen to marry them off. The two eldest girls (Jane and Elizabeth) concoct a plan to bring together Jane with the equally enamoured Charles, only to have his best friend Darcy attempt to call it off.
These romantic classics will make perfect viewing for your bridal night in. But before you settle into your PJs, contact Melbourne's Best Functions to plan an Insta-worthy bridal night out… the movies will come later.