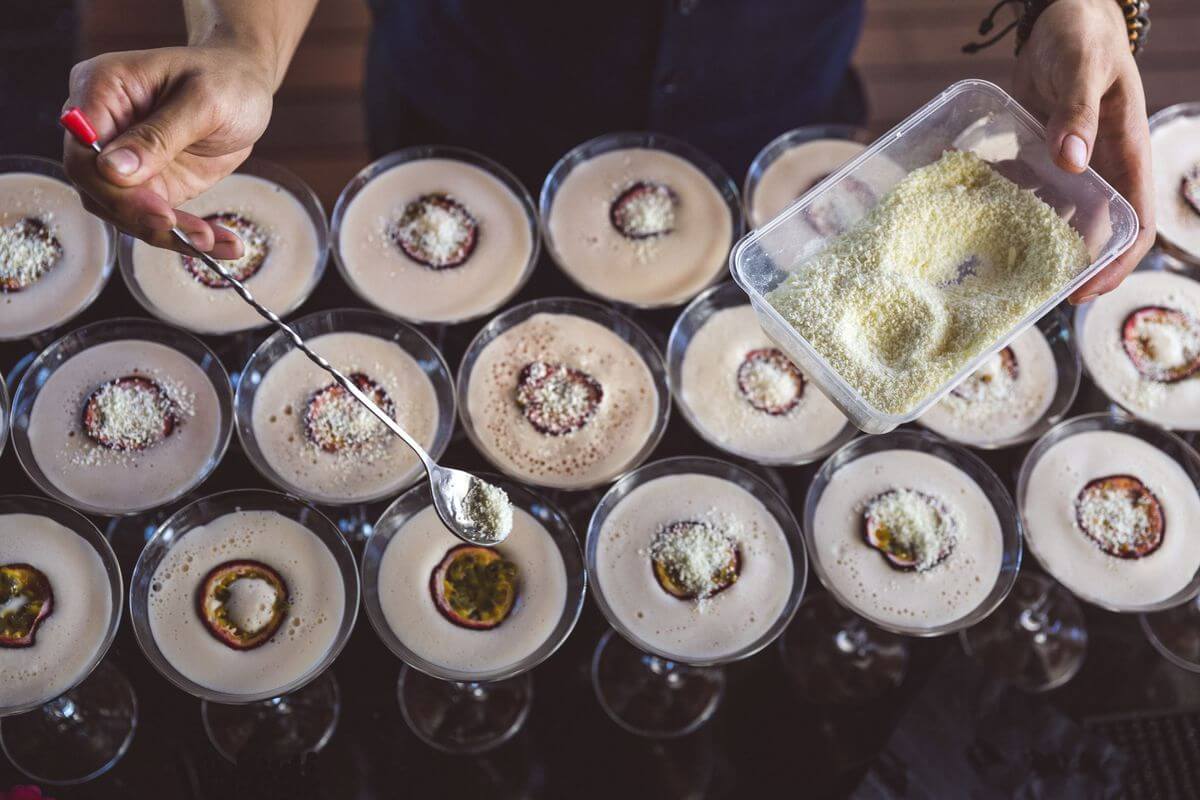 The way to a person's heart is through tantalising their taste buds, so we've rounded up the latest trends in food catering to leave your guests craving more.
Mocktails Will Become Mainstream
As more people turn to alcohol-free choices, mocktails will start to compete with their cocktail cousins as your guests' choice of drink. Make being sober stylish and shake things up by giving your drinks interesting names. "Who'd like a 'Kiss on the Beach'?"
Intolerance-Friendly…
Increased awareness around food intolerances means more guests will be saying 'no thanks' to gluten and dairy and 'yes please' to yummy alternatives. If you're unable to go gluten or dairy-free for the entire event, make it clear which options guests with intolerances should select.  
…And Gut Friendly Too
2020 will bring a big focus on gut health, so what can you do to keep your guests' happy and healthy? Provide foods rich in probiotics or make a bold statement with fermented options. Don't forget to add kombucha to the drinks list (on trend and refreshing.)
Sustainability
The new decade will see an increased movement towards sustainable options. Ditch the single use plastic and use compostable or reusable cutlery instead. Ask guests to BYO water bottles or coffee cups – just make sure there's enough water, tea and coffee provided.
Plant-Based Meat
Vegetarian and vegan options will continue to grow in popularity as more people make the switch. Put a modern twist on popular meat dishes by making the meat itself plant-based. Think delicious plant-based burgers, or make vegetables or legumes the focal point of the meal.
Do It For the 'Gram
It's no secret that people like to flaunt good-looking food and beverages across social media (#foodporn, anyone?). Make your meals Instagram-worthy by using bright colours and getting creative with the layout and styling of the menu.
Gourmet on the Go
Who said convenience had to mean boring? Gone are the days of stale sandwiches or sad salads at events. Give your guests gourmet options that are easy to eat but still tasty and appealing. 
Flexibility
People like to be in control of their food choices, including when to eat. 2020 will see events steer away from sit-down meals and towards continuous and optional refreshments provided throughout the event.
Exotic Fruits
Delicious, colourful and adventurous; get creative by serving exotic fruit from across the globe. Guests will be thrilled by the range of unique options that they can't find in their local supermarket.
Healthy Snacks
Gone are the days when potato chips or salted nuts would satisfy your guests. Make use of healthy alternatives to reinvent traditional finger food and snacks. Vegetable crisps are our go-to choice.
Melbourne's Best Functions will help you plan an event that is right on trend. Choose from a versatile range of venues that will suit any occasion. Contact us on (03) 8199 3733 or [email protected] for assistance with planning your event today.