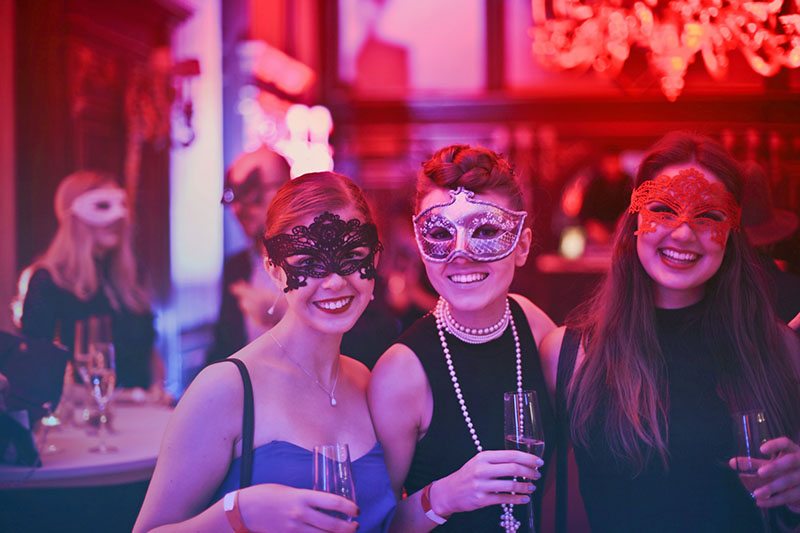 Your hens night is a night that should be full of adventure and bonding between you and your chosen group of close girlfriends. From incorporating exclusive VIP rooms to hiring a henna artist for the evening, there are countless of options for you to consider in making your hens night experience truly something that represents you and your close friendships. To make your hens evening an experience that you will never forget, these are some ideas to help you plan for a night full of entertainment and memories.
Themes
Making a theme for your hens night is a fun way to tap into creative juices and make everyone get involved. Some fun theme ideas include: masquerade, colour themes, animal ears, matching shoes or matching necklaces.
Champagne for Breakfast? Yes Please!
Start your day with your closest gals and have them join you for a couple of sips (or more) of champagne. Use this opportunity to share your inner thoughts about the future with your inner circle. Remember to have some non-alcoholic options for those who are not drinking!
Scavenger Hunt
If you're up for it, organise a scavenger hunt for you and your girls to complete. Make up a treasure map, filled with clues that will lead to fun prizes such as spa coupons, bottles of wine, or even cash rewards.
Hire a Chauffeur and Make a Playlist
Treat yourself and your ladies by hiring a chauffeur to drive you around town for the day/evening. The best way to amplify this is by preparing a fun musical playlist that includes songs that are meaningful to you and your ladies.
Professional Photographer
Hiring a professional photographer is a great way to make sure that you get to keep the memories made on the evening. Granted that you may indulge in too many cocktails, it's always great to have someone to document the evening for you and your ladies.
Our team of event experts have more than a decade of experience are here to help you in planning a night that is free of blandness and full of exquisite details to make every attendee have an amazing time. To organise an evening full of class and endless fun, get in touch with us on (03) 8199 3733 or email [email protected] to find out about our exclusive and fun hens night packages.